Basic Approach to Global Health
The opportunity to live a healthy life should be a basic and universal human right for everyone in the world. That is why the Sustainable Development Goals (SDGs) adopted by the United Nations in 2015 defined "GOOD HEALTH AND WELL-BEING" as one of the essential goals. Our management philosophy is to "enrich lives and provide peace of mind through proprietary in vitro diagnostics." We see it as our mission to contribute to global health through the implementation of this philosophy.
Initiatives of TAUNS
Many people in the world are unable to receive essential medical treatment due to inadequate medical system, poverty, or other reasons. As a manufacturer of in vitro diagnostics, TAUNS is working to resolve such issues in access to healthcare through collaboration with international organizations, public institutions, NGOs and industry groups.
Our rapid diagnostic test kits for infectious diseases (POCT*1), which are the main products we manufacture and sell, are immunochromatographic test kits that (1) can be used without the need for water, gas, electricity or other infrastructure; (2) do not require any special equipment; (3) are simple to operate; and (4) indicate test results in a short time (within tens of minutes). Our rapid diagnostic test kits can be used even in areas where access to medical care is often difficult, such as developing countries where the provision of infrastructure and testing equipment are not sufficient. We are developing and promoting our products with a firm belief that they can contribute to better health and well-being for all through the early diagnosis and treatment of infectious diseases.
*1 POCT: Point Of Care Testing
Working toward a Tuberculosis-Free World
Tuberculosis (TB) is one of the three major infectious diseases in the world, along with malaria and AIDS. According to the World Health Organization (WHO) Global Tuberculosis Report 2020, about 10 million people fell ill with TB, and 1.4 million people died from TB in 2019. Thus TB is the leading cause of death from a single infectious agent.
In the diagnosis of TB, TAUNS has been working toward a TB-free world, collaborating with the United Nations Office for Project Services (UNOPS)*2 and Stop TB Partnership's*3 Global Drug Facility (GDF)*4. With the support of the Foundation for Innovative New Diagnostics (FIND)*5, the global alliance for diagnostics, our TB diagnostic test kit "CapiliaTM TB" was endorsed by WHO in 2007. In 2012 we launched "CapiliaTM TB-Neo" and obtained the CE marking indicating its conformity with EU standards. In 2016, we concluded a long-term agreement with UNOPS and Stop TB Partnership's GDF for the supply of "CapiliaTM TB-Neo." "CapiliaTM TB-Neo" is now listed in the latest "Diagnostic Catalogue" of Stop TB Partnership's GDF, as well as in the "List of TB diagnostic test kits and equipment classified according to the Global Fund Quality Assurance Policy" (Version 5, 2021-03-17) of The Global Fund to Fight AIDS, Tuberculosis and Malaria*6 (The Global Fund).
Utilizing the proprietary technologies we have developed over 30 years, we continue creating in vitro diagnostics that support global health, and engage in improving their quality, so that we will contribute to shaping a more sustainable world by helping ensure healthier lives for all at all ages.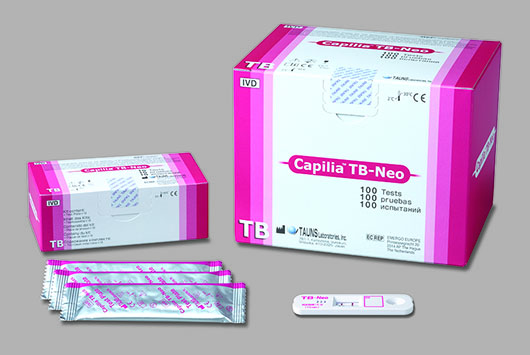 *2 United Nations Office for Project Services (UNOPS): Operational arm of the United Nations, supporting the successful implementation of its partners' peacebuilding, humanitarian and development projects around the world.
*3 Stop TB Partnership: A partnership founded in Switzerland in 2001 with the aim of creating a TB-free world to serve every person who is vulnerable to TB and ensure that high-quality diagnosis, treatment and care is available to all who need it. It is operated through a secretariat hosted by UNOPS.
*4 Global Drug Facility (GDF): As part of the Stop TB Partnership, GDF is the largest global provider of quality-assured TB medicines, diagnostics and laboratory supplies to the public sector.
*5 Foundation for Innovative New Diagnostics (FIND): A global non-profit organization headquartered in Geneva, Switzerland. It drives innovation in the development and delivery of diagnostics to combat major diseases affecting the world's poorest populations and seeks to ensure equitable access to reliable diagnosis around the world.
*6 The Global Fund to Fight AIDS, Tuberculosis and Malaria (The Global Fund): A partnership designed to accelerate the end of AIDS, tuberculosis and malaria as epidemics.
Sustainability