Introduction of the business and strength of TAUNS Laboratories, Inc.
Q1. What kind of company is TAUNS?
We are a manufacturer of in vitro diagnostics specializing in developing,
manufacturing and selling rapid diagnostic test kits (POCT*)
for infectious diseases for more than 30 years.
TAUNS Laboratories, Inc. is one of the major companies of rapid diagnostic test kits for infectious diseases in Japan. We manufacture in vitro diagnostics and research reagents applying various analysis technologies, and sell them in and out of Japan. In the field of rapid diagnostic test kits for infectious diseases, which are our main products, we have been widely known for high-quality products and customer services by hospitals, clinics, research institutes and biotech startups.
For over 30 years since the company was established in 1987, under the corporate philosophy of enriching lives and providing peace of mind, we have strived to develop and improve our products. As a leading company of rapid diagnostic test kits in Japan, we continue to advance R&D to meet the needs for clinical tests.
*POCT : POCT stands for Point Of Care Testing. It refers to a test performed by a healthcare professional beside an examinee. With the advantages of shortening the test time and making an examinee feel familiar with the test, it helps to contribute to more timely and appropriate medical treatment and nursing care, prevent disease, and improve overall health. Furthermore, it is the test that helps to improve the quality of medical care, QOL (quality of life) and satisfaction of an examinee. (Translated from the POCT Guideline of Japanese Journal of Clinical Laboratory Automation)
Q2. What kind of products does TAUNS sell?
We mainly sell rapid diagnostic kits to test for infectious diseases.
Our rapid diagnostic test kits are used to assist physicians in making diagnoses. They are mainly used in internal medicine and pediatrics for the diagnosis of infectious diseases such as influenza virus, adenovirus, RS virus and GABHS.
Our products are widely known among medical institutions. In October 2020, we also launched a new antigen test kit for detecting SARS-CoV-2 in Japan.
Q3. Where are TAUNS' products used?
They are mainly used in medical institutions.
TAUNS' products are used throughout Japan and around the world. Since they are used mainly in the outpatient consultation rooms and laboratories of hospitals and clinics, ordinary people might hardly see them.
Q4. What is the key strength of TAUNS?
Our key strength is that we carry out all of the activities from
R&D to manufacturing and sales.
Since we carry out all of the activities from R&D to manufacturing and sales, we are able to commercialize our customers' needs quickly.
In addition, our patented platinum-gold colloid technology has been applied to our rapid diagnostic test kits "ImunoAce/Capilia series."
* For more information on our platinum-gold colloid technology, click here.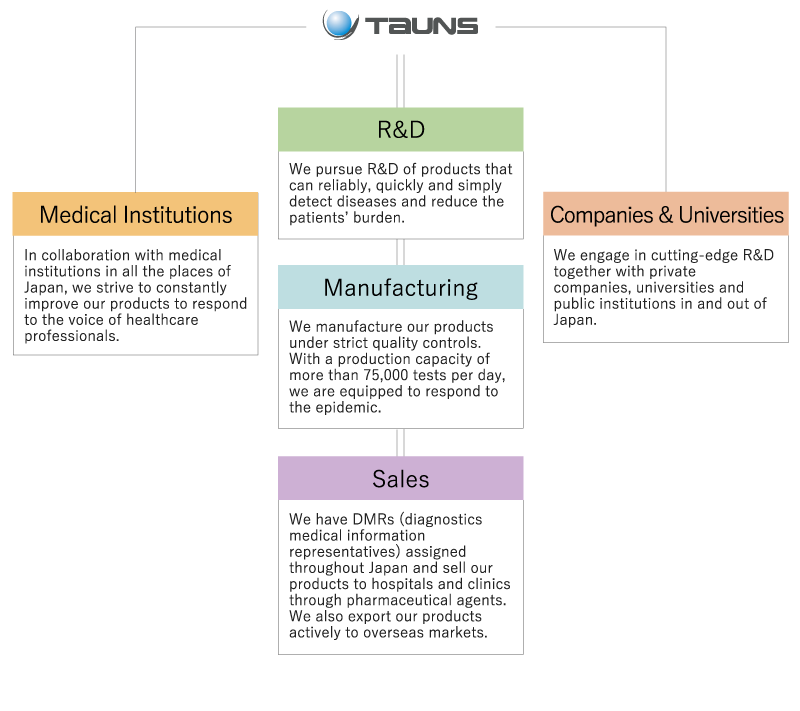 About TAUNS