Management Philosophy
Through proprietary in vitro diagnostics, we will enrich lives and provide peace of mind.
In order to do so, we will accumulate technology and knowledge,
and continue to develop and improve our products.
Corporate Slogan
Peace of mind through diagnostic technology.
Normal days that pass you by.
Special moments that are out of the ordinary.
All of these are sustained by unwavering peace of mind.
With our proprietary diagnostic technology,
TAUNS assists in diagnosis and early detection of diseases.
Building a better outlook throughout the world
by relieving worries, one by one.
We continue to help you live life every day without worry.
Code of Conduct
Contributing to enriching lives throughout the world through development of pharmaceuticals
We will pursue new technologies, products, and services so that people across the world will be able to live fruitful lives with peace of mind.
Furthermore, we will be constantly conscious of social issues and actively search for solutions.
Conducting business responsibly as a member of a global society
We will constantly be conscious of our responsibilities in all our corporate activities, and will abide by the law and act with high ethical standards.
Promoting employees' safety, health, and growth
We will show respect for the individuality of every employee, and provide a safe and healthy work environment and opportunities to improve skills.
Furthermore, employees will make use of these opportunities and our enriching environment for further self-improvement.
Contributing to a sustainable society
We will develop environmentally conscious products and services, and provide these to those in need while adhering to local laws and legislations.
Conducting business with fairness and transparency
We will disclose and release information as necessary.
Furthermore, we will not work with anti-societal forces, and will maintain a fair and truthful relationship with public institutions.
Corporate Name & Brand Mark
Corporate Name
| | | |
| --- | --- | --- |
| T | : | technology |
| A | : | acceleration |
| U | : | uniqueness |
| N | : | newness |
| S | : | sociality |
The corporate name of TAUNS Laboratories, Inc. indicates "Technology," "Acceleration," "Uniqueness," "Newness" and "Sociality."
Brand Mark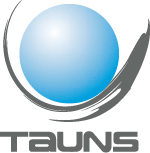 Conduct Sphere
Our logo is composed of a "Blue Sphere," which depicts a rich, sustainable world (earth) with peace of mind, and the "Conduct Arch," which represents our will and dynamism for advancement towards the future.
These elements together portray TAUNS' corporate philosophy to lead the world towards "life with peace of mind."
About TAUNS