Structure of Risk Management and Compliance
For the continual improvement of corporate value, we recognize that it is essential to strengthen and promote the structure of risk management and compliance across the company. For this purpose, we have defined "Risk and Compliance Rules" to ensure that all employees are informed of and comply with the rules. The Risk and Compliance Committee has been established to take control of the overall risk and its countermeasures, as well as to plan, implement and review the educational activities relating to compliance. The Committee, chaired by the President, consists of members appointed by the President, and meets once a quarter as a rule, or more frequently if necessary.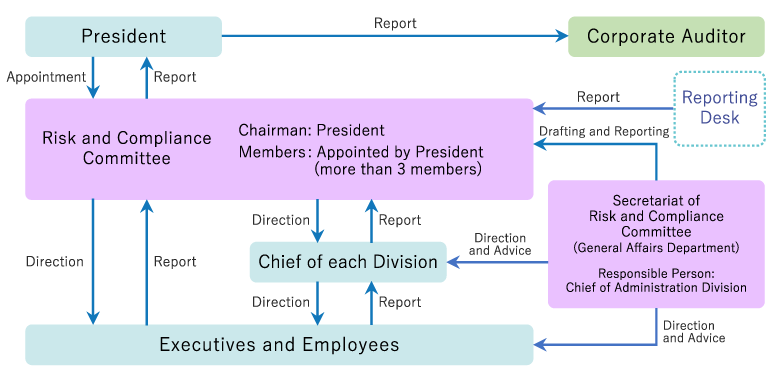 Internal Reporting System
We have set up an internal reporting system to enable executives and employees to report violations of laws and regulations and any other legally suspicious activities. The system provides points of contact to receive reports inside and outside the company. To protect the confidentiality of whistleblowers, we have established a system to ensure that they are not personally identified during the investigation process nor treated disadvantageously in any way as a result of such reporting. For each report from whistleblowers, the fact of receiving a report, its content, and the investigation results are reported to the Risk and Compliance Committee.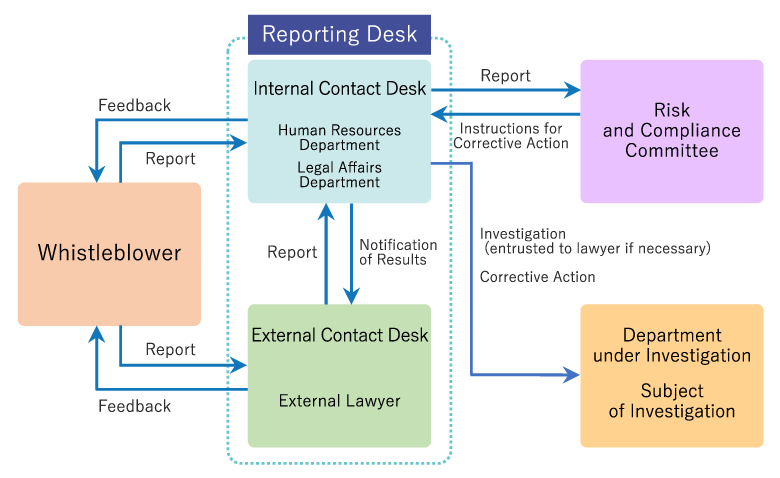 Education and Training on Compliance
We conduct compliance education and training for all employees through group training and e-learning programs, focusing on selected compliance-related themes such as harassment, information security management, and elimination of antisocial forces. After the education and training, we check the level of understanding through questionnaires or training reports, and use this information to improve the compliance system, rules and education.
Transparency Guidelines on Relation with Medical Institutions
As a life-related company associated with the lives and health of people, TAUNS has established the "Transparency Guidelines on Relation with Medical Institutions" referring to the "Transparency Guidelines for the Relation between Corporate Activities and Medical Institutions" of the Japan Association of Clinical Reagents Industries (JACRI), and has defined it as our code of practice.
We hope that the medical institutions and medical professionals will kindly understand the purpose of this Guidelines and provide their cooperation.
Elimination of Antisocial Forces
TAUNS has set its own "Rules for Handling of Antisocial Forces" and "Manual for Handling of Antisocial Forces." The President and all other executives and employees stand united in their determination to eliminate any relations with antisocial forces. We have designated the department in charge of handling antisocial forces, and in the event of receiving undue claims from antisocial forces, we will take appropriate action in cooperation with the police and lawyers as necessary.
Sustainability